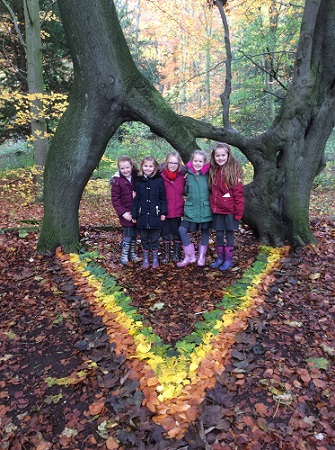 8 November 2018
Nellie's Tree
Wow, what an amazing morning - Class 3 went to visit Nellie's Tree, voted UK's Tree of the Year!! The tree is a beech tree grafted into an N-shape to woo a sweetheart named Nellie. Almost 100 years ago, Vic Stead grafted a sampling between two others to form the letter N as he went to meet Nellie. They later went on to get married and have their own family.
Class 3 had a fantastic trip up to Nellie's Tree to create some wonderful Autumnal artwork, with a big thank you to Cathy Carney for organising and leading. They worked in groups to collect different coloured leaves and sort them accordingly. We worked as a team to create a 'V' representing Victor, Nellie's husband and creator of the tree before the children went on to make their own leaf art. Take a look .. we are very proud!!
Take a closer look at our photos in our photo gallery!
Charlotte D
8 November 2018
I had a wonderful day at Nellie's Tree today, I enjoyed creating our beautiful art piece.
Madeleine B
12 February 2019
When we went down Nellies tree, it was really fun!

Freya G
12 February 2019

Me, Ava, Madeleine, Maddy and Kaitlyn made a heart to show that we are friends!






































































































































































Leave a Reply