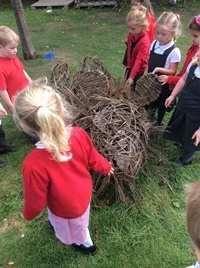 12 September 2018
Class One really enjoyed exploring our outside field area today. The sun was shining and we all had smiles on our faces.
We were travelling with confidence and skill on the balancing and climbing equipment; throwing and kicking the ball and negotiating space successfully playing tig.
We found lots of ladybirds and were really curious about the willow house and lion. Although Mrs Jennings told us it was a lion, we thought it looked more like a mouse!
Take a close look at our photos in our photo gallery!
Poppy
18 September 2018
I hope class 1 have settled into the school well and have made alot of new friends !
Leave a Reply