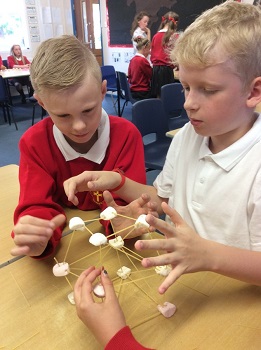 3 September 2018
Teamwork Challenge
"Coming together is a beginning, keeping together is progress, working together is success." (Henry Ford)
Class 4 had a fun-filled first day back as they were challenged to build the tallest tower using only spaghetti and marshmallows. The children had to use many important skills such as: listening, patience, perseverance, leadership, steadiness, care, clear speaking and concentration.
Each group worked incredibly well together and I was extremely proud of everyone.
Unfortunately, some of the towers collapsed before we had the chance to measure them as the marshmallows became very soft and sticky, however, the children did not let this dampen their spirits and we were very proud of the winning team.
Well done to Maddie, Liam, Ebony-Rose, Alexander, Millie and Beth for building the tallest spaghetti and marshmallow tower in C4.
Take a closer look at our photos in our photo gallery!
Poppy
18 September 2018
Making these structures were challenging and a little messy but i still really enjoyed creating them and I noticed that if anyones structure fell down they would persevere.
Leave a Reply