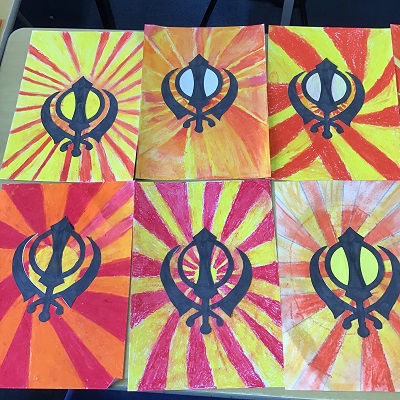 Primary Diversity Day 2021
We were lucky enough to participate in the Leeds for Learning Primary Diversity Day on 20th April 2021. This event gave us the opportunity to learn first-hand about the celebrations that take place in our local faith communities at this time of the year.
In Class 4, we started our Spring Celebration day learning all about the Sikh festival of Vaisakhi. We were introduced to this through a film clip with Japjit Kaur who is a practising Sikh. Born and bred in the UK, practising Sikhism has become the focal point for all aspects of her life. In this film we learnt how she celebrates this important festival.
Vaisakhi is the festival which celebrates the founding of the Sikh community, the Khalsa, in 1699. It is a spring festival which happens on the 13 or 14 April every year. We learnt how on Vaisakhi, Sikhs go to the Gurdwara in the morning for a service. Afterwards, they may have a procession through the streets with lots of singing, chanting and colourful clothes. The procession is called the Nagar Kirtan. Then, in the evening, Sikhs tend to have a special meal with family and friends.
We then enjoyed our first craft session using the Khanda symbol as a focal point. Using a limited palette, with shades of orange, yellow and red (traditional colours at Vaisakhi) we created a background using oil pastels. We then added the black khanda symbol which has the Khanda sword at its centre. This signifies God's truth and justice.
Our next focus was Judaism. We were introduced to Gail Taylor who is a member of a synagogue in Leeds.
We learned more about the Jewish celebration of Passover which is a celebration of the story of Exodus. During Passover, Jews remember how their ancestors left slavery behind them when they were led out of Egypt by Moses. Passover is celebrated with a series of rituals. Each ritual symbolises a different part of the story. Passover (or Pesach in Hebrew) is one of the most important festivals in the Jewish year. It is a Spring festival that begins on the 15th day of Nisan, the first month of the Jewish calendar.
One of the ten plagues that Moses told of was a plague of frogs. God sent these as the Pharaoh did not let the people go. Egypt was overrun with frogs!
Class 4 then put their origami skills to the test to make an origami bookmark, adding eyes and a tongue to make it into a frog (like one of the 10 plagues of Egypt).
Hinduism was our next religious study where we learnt all about Holi celebrations.
Holi is a Hindu festival that celebrates spring, love, and new life. Some families hold religious ceremonies, but for many Holi is more a time for fun. It's a colourful festival, with dancing, singing and throwing of powder paint and coloured water. Holi is also known as the "festival of colours".
Holi marks the arrival of spring and the end of winter. It is usually celebrated in March. Holi also celebrates the Hindu god Krishna and the legend of Holika and Prahlad. On the first night of Holi, people light bonfires and throw roasting grains, popcorn, coconut and chickpeas onto them. The next day, people of all ages go into the streets for fun and paint-throwing. Everyone gets involved! Hindus have fun by smearing each other with paint and throwing coloured water.
The Islamic festival of Eid was our final learning of the day where we learnt more about the fasting month of Ramadan. Ramadan is the Muslim holy month of fasting, and is celebrated during the first three days of Shawwal, the 10th month of the Islamic calendar (though the Muslim use of a lunar calendar means that it may fall in any season of the year).
Eid al-Fitr also means "the feast of breaking the fast." The fast, in this instance, is that of Ramadan, the holy month observed by Muslims, which recalls the revealing of the Quran to Prophet Muhammad. Eid celebrations can last up to three days. In many countries with large Muslim populations, it is a national holiday.
Celebrations vary by country but include gatherings to view the new moon, decorating homes inside and out, family visits, eating special sweet foods, neighbourhood fairs, visits to amusement parks, wearing new clothes and giving and receiving gifts.
We then used templates to create our own Islamic patterns following a step by step of instructions using geometric shapes using a pencil and a ruler. We then added colour with coloured pencils and felt tip pens.
Leave a Reply