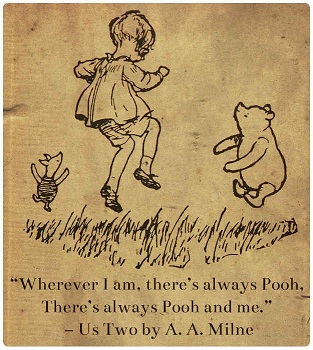 25 June 2020
So wherever I am, there's always Pooh,
There's always Pooh and Me.
"What would I do?" I said to Pooh,
"If it wasn't for you," and Pooh said: "True"
What relationships are important in your life? How can we ensure our relationships are safe and supportive? What do we need to do to be a good friend?
Today is RSE (Relationships and Sex Education) Day. This year the theme for RSE Day is 'Books I love about love'. What books do you love about love? Books and stories can teach us so much about relationships - with friends and family, but also with the wider world. In the poem, Us Two by A.A.Milne, we learn how, 'It isn't much fun for One, but Two, Can stick together'.
From September 2020 there is new statutory Relationships Education and Health Education. We will teach the statutory requirements as part of our PSHE curriculum. We have always taught PSHE at Aberford and know how important it is to ensure children grow up happy and secure in themselves and their choices.
As part of our planning for the new PSHE curriculum, we are also engaging with parents on how and what Sex Education is taught at Aberford. In September we will be looking for parents to join a forum to consult on curriculum content and policy. If this is something you would be interested in joining, please email office@aberfordceprimary.org.uk. Research shows that excellent RSE supports the wellbeing of, and helps to safeguard, children and young people, and that RSE is more effective when home and school are involved (Sex Education Forum).
Here is a document briefly outlining the new statutory requirements. This document is also being sent via Class Dojo so look out for it.
In the meantime, do share your favourite books about love!
Leave a Reply