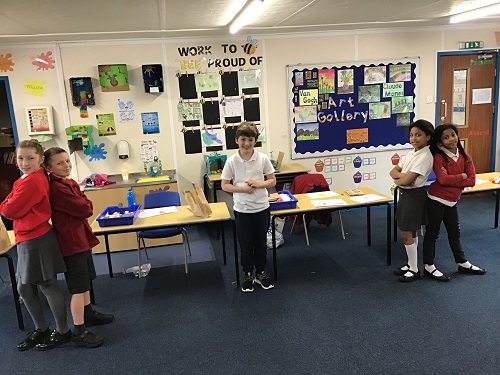 Well, we are at the end of week two and myself and Mrs O'Neill continue to be amazed by the children and their attitudes. They have all been an absolute pleasure to have in class.
This week we come to an end of our topic on Growth and we have been overwhelmed by the many donations that we have received from the Aberford Family. These have included bedding plants, vegetable plants, seeds and planters. So a big thank you to everyone who has helped us out so far.
In English, we have been focusing on the 'Puffin Festival of Big Dreams'. We have heard stories from the likes of Hana Tooke, Jacqueline Wilson and Sam Copeland to name a few. They have loved drawing along with live artists and produced some fabulous dreams. The children particularly enjoyed finding out their dream names. Mine was 'The Gloriumptious Demi-God' and Mrs O'Neills was 'The Wiggling Caterpillar'. Why don't you ask the children theirs? There were some very funny ones.
In Maths we have continued to look at angles and sorting them into Carroll diagrams. As well as this, they were given a budget of £1000 to plan and build their own gardens. Once completed we then moved on to making their own three-dimensional gardens, which are out of this world.
Once again in an afternoon, we have been more practical. We have been getting our daily Joe Wicks Fix in PE and in Art have focused on the artists, Vincent Van Gogh and Georgia O'Keeffe. As well as the art, we have been keeping an eye on our sunflowers. Some of them have even started to sprout a little.
Our star of the week this week was Logan. We were so proud of how he has settled back into the Aberford Family, it was like he was never away. Good to have you back Logan.
Next week we will be starting a new topic, we are very excited. It's going to be 'Out of this world'.
Stay safe, have a lovely weekend and we will see you all next week.
Mrs Teale & Mrs O'Neill
Kayla
12 June 2020
This week was fun and so was last week and I'm looking forward to next week.
Leave a Reply