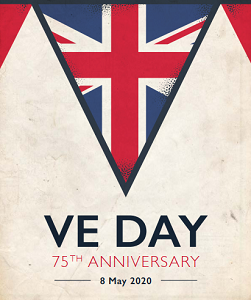 8 May 2020
VE Day!!
8th May 2020 marks 75 years since VE (Victory in Europe) Day.
The day the Second World War came to an end in Europe. It happened when Germany (sometimes known as the Nazis) surrendered. It was not the end of the war completely though as it continued in the Pacific against Japan. The war officially ended there in September when their surrender was signed.
It marked the end of 6 years of war. It included countries from around the world and fighting took place on nearly every continent. The long anticipated news resulted in spontaneous celebrations breaking out across the nation. A national holiday was declared and people from all walks of life came together to mark the moment.
Click the images below to find out more!
Previous celebrations at Aberford
VE Day was important because it meant an end to the spread of Nazism and Adolf Hitler's empire (the Third Reich). It was the end of a war which had lasted six years, during which millions had died and millions more suffered intense privations. Families, homes and entire cities had been destroyed.
How will you commemorate this special day?
VE Day Crafts
Click on the images below for instructions
VE Day Resources
Francesca
10 June 2020
VICTORY

Madeleine B
10 June 2020
I loved being in class 3 and celebrating VE day

Leave a Reply