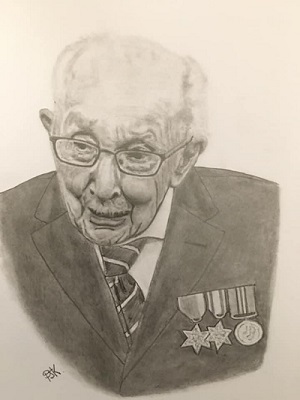 A Beacon of Light in Dark Times
- Jo Beard
A 99 year old veteran,
had a great idea.
To show gratitude to the NHS,
within his 100th year.

You know him as Captain Tom,
but his name is Thomas Moore.
A British Army Officer,
who served in the Second World War.

Some would say "I've played my part,
I think I'll take a rest."
But he selflessly did his laps,
to complete his promised quest.

For his chosen charity he
hoped to raise one thousand pounds.
So he set about his challenge,
to walk his garden grounds.

100 laps to complete,
donning medals and smartly dressed.
With people pledging money,
he hardly took a rest.

He captured the Nation's heart,
a hero he became.
He wanted to help others,
he didn't ask for fame.

A Guard of Honour formed,
by the Yorkshire Regiment.
For the Great British Army,
he's the perfect testament.

A beacon of hope in dark times,
his daughter's filled with pride.
An inspiring gentleman,
and much much more besides.

He's helped the NHS,
to fight a battle they did not choose.
A battle against a virus,
they are determined not to lose.

So we salute you, Captain Tom,
for everything you have done.
A knighthood you truly deserve,
when this battle is won.
Madeleine B
10 June 2020
He has raised a lot of money
Leave a Reply